Serious Game Classification
32 in 1 Game Cartridge Activision (U.S.A.), Atari Corporation (U.S.A.), 1988
Classification
RETRO SERIOUS GAME
(Edugame)
Keywords
Purpose
Besides play, this title features the following intents:
Licensed title
Educative message broadcasting
---
Market
This title is used by the following domains:
---
Audience
This title targets the following audience:
Age :
12-16
/
17-25
/
8-11
General Public
---
Gameplay
The gameplay of this title is
Game-based
(designed with stated goals)
The core of gameplay is defined by the rules below:
---
---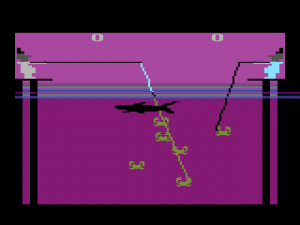 This was a cart that was released in PAL format in Europe, Australia and New Zealand. Most were the pack in game with the Atari 2600 in the UK and Atari 7800 in Australia and New Zealand but it was also released as a boxed separate game for the Atari 2600. A different game was selected every time the Atari 2600 or Atari 7800 was turned on.
The games were:
UFO (a renaming of U. S. Game's Space Jockey)Flag CaptureHuman CannonballReversi (a renaming of Atari's Othello)Activision's CheckersSlot RacersBlackjackFishing (a graphic hack of Activision's Fishing Derby in which you are fishing for crabs)Freeway Rabbit (a graphic hack of Activision's Freeway in which you are a rabbit)Space WarFun with NumbersGolf3-D Tic-Tac-ToeSurroundMiniature GolfActivision's BoxingFootballAir-Sea BattleFreeway Chicken (a renaming of Activision's Freeway)Activision's TennisActivision's SkiingActivision's Fishing DerbySky DiverBowlingCombatActivision's StampedeActivision's Laser BlastOutlawSlot MachineBasketballHome RunAnt Party (a renaming of CommaVid's Cosmic Swarm) [source:mobygames]
Distribution :
Retail - Commercial
Platform(s) :
Atari 2600
Links
---
---