Serious Game Classification
Fate Of The World: Tipping Point Red Redemption (Royaume-Uni), Red Redemption (Royaume-Uni), 2011 Jouer à ce jeu !
Classification
SERIOUS GAME
(Edugame (Ludo-éducatif))
Intention
En plus de son aspect ludique, ce titre à pour intention de :
Diffuser un message éducatif
---
Marché
Ce titre est utilisé au sein des domaines suivants :
Divertissement
Education
Ecologie
---
Public
Ce titre s'adresse aux publics suivants :
Age :
17-25
/
25-35
Grand Public
&
Etudiants
---
Gameplay
Le gameplay de ce titre est de type
Jeu
(avec objectifs explicites à accomplir)
---
---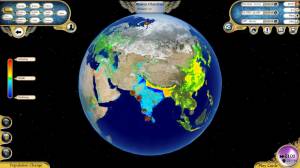 Fate of the World est un jeu de stratégie global qui met notre avenir à tous entre vos mains. Le jeu dispose d'une série de scénarios spectaculaires basés sur les dernières découvertes scientifiques et qui affectent les deux prochains siècles.
Distribution :
Internet - Commercial
Support(s) :
Macintosh
-
PC (Windows)
Liens additionels
---
---