Serious Game Classification
Tragedy of the Tuna Eric W. Orts (Etats-Unis), Wharton's Learning Lab (Etats-Unis), 2007
Classification
SERIOUS GAME
(Newsgame)
Mots-clés
Intention
En plus de son aspect ludique, ce titre à pour intention de :
Diffuser un message éducatif
Diffuser un message informatif
---
Marché
Ce titre est utilisé au sein des domaines suivants :
Education
Ecologie
Recherche Scientifique
---
Public
Ce titre s'adresse aux publics suivants :
Age :
17-25
Etudiants
---
Gameplay
Le gameplay de ce titre est de type
Jeu
(avec objectifs explicites à accomplir)
---
Jeux similaires
---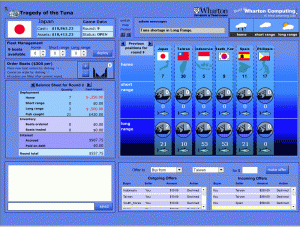 Ce jeu est basé sur l'article de Garret Hardin "The Tragedy of the Commons," (1968). Il s'agit d'une simulation qui pose la question de la préservation des ressources communes à tous : l'air, les océans...
Dans ce jeu, chaque groupe d'étudiants incarne une flotte de pêche. Rapidement se pose la question de savoir comment préserver les ressources de manière collective...
Distribution :
Free
Support(s) :
Browser
Liens additionels
---
---