Serious Game Classification
Fistful of Dollars Acton Foundation for Entrepreneurial Excellence (Etats-Unis), 2008 Jouer à ce jeu !
Classification
SERIOUS GAME
(Edumarket Game)
Intention
En plus de son aspect ludique, ce titre à pour intention de :
Diffuser un message éducatif
Diffuser un message de marketing ou communication
---
Marché
Ce titre est utilisé au sein des domaines suivants :
---
Public
Ce titre s'adresse aux publics suivants :
Age :
12-16
/
17-25
/
25-35
/
35-60
Grand Public
&
Etudiants
---
Gameplay
Le gameplay de ce titre est de type
Jeu
(avec objectifs explicites à accomplir)
Commentaires
Taxinomie
"Jeu éducatif diffusé par la "Acton School of Business""
---
---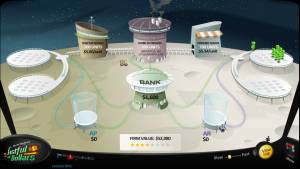 Un serious game dans lequel vous devez gérer et déveloper votre usine de production de blasters. A vous de mettre en phase commande, cout de production et matière première pour prospérer.
Distribution :
Internet - Free
Support(s) :
Browser (Flash)
Liens additionels
---
---