Serious Game Classification
The Coke Zero Game: Football as it should be North Kingdom (Suède), Coca-Cola (Etats-Unis), 2009 Jouer à ce jeu !
Classification
SERIOUS GAME
(Advergame)
Intention
En plus de son aspect ludique, ce titre à pour intention de :
Diffuser un message de marketing ou communication
Raconter une histoire
---
Marché
Ce titre est utilisé au sein des domaines suivants :
---
Public
Ce titre s'adresse aux publics suivants :
Age :
12-16
/
17-25
Grand Public
---
Gameplay
Le gameplay de ce titre est de type
Jeu
(avec objectifs explicites à accomplir)
Le coeur du gameplay est créé par les règles :
---
Jeux similaires
---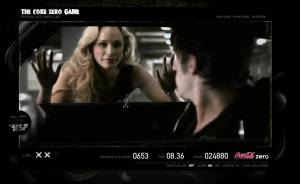 Vidéo interactive entrecoupée de 4 épreuves : conduite, tir au ballon, jonglage et flipper. Le but du joueur est d'atteindre en 10 minutes le stade de football en accomplissant une série d'épreuves présentée par de jolies hôtesses de Coca-Cola Zéro.
Distribution :
Internet - Free
Support(s) :
Browser (Flash)
Liens additionels
---
---