Classification
SERIOUS GAME
(Exergame)
Purpose
Besides play, this title features the following intents:
---
Market
This title is used by the following domains:
---
Audience
This title targets the following audience:
Age :
Professionals
---
Gameplay
The gameplay of this title is
Game-based
(designed with stated goals)
---
---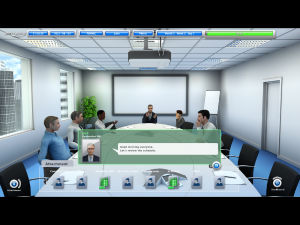 Promise is a serious game aiming at training professionnals from the Oil & Gas Industry. It provides a simulation tool allowing the learners to experience an entire project through crucial events illustrated by interactive exercices. The achievement of the digital training is directly linked to the learner's decision-making skills. This project has been nominated at the E-Virtuoses Awards 2012 in the "Best Serious Game project of the Year" category.
Firstly, this training tool targets professionals from Petroleum Block and Production fields. It takes part within the training sessions organized by IFP Training, a subsidiary from IFP New Energies (French Petroleum Institute).
This serious game is an experience accelerator enabling the learners to be immersed in the management processes of a complex oil project. The project scenario is based on existing cases. The learners have to take appropriate decisions regarding the working progress while facing typical hazards of an industrial project. A player becomes the Project Manager and has to lead a team composed of key operators such as : Organizational Planner, Cost Manager, Purchasing Manager, Construction Manager... The challenge taken up by Promise is to provide the learners with the entire experience of a project and give a complete overview of the necessary management processes while measuring the impact of every single decision.
The gameplay, the interface and the navigation system met the requirements of the Project Management Profession through the following elements:
- Realistic and attractive 3D graphics
- Optimum ergonomics allowing intuitive user experience
- A scenario composed of more than 30 events illustrated with various interactive exercices
- A flexible scenario easy to edit to adapt itself to both learner's level and the duration of the training.
- An ideal gameplay for team-based or solo usage.
Distribution :
Commercial
Platform(s) :
PC (Windows)
Links