Classification
SERIOUS GAME
(Edugame)
Purpose
Besides play, this title features the following intents:
Educative message broadcasting
---
Market
This title is used by the following domains:
Healthcare
Scientific Research
---
Audience
This title targets the following audience:
Age :
17-25
/
25-35
/
35-60
Professionals
&
Students
---
Gameplay
The gameplay of this title is
Game-based
(designed with stated goals)
---
---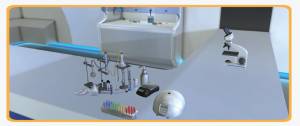 Learnexx 3D is an online, very realistic 3D virtual environment where academic and pharmaceutical users learn laboratory skills by doing them, reinforce them with practise, learn from mistakes and are automatically assessed. Customisable to mimic actual room layouts full of real equipment, with built in lab protocols, procedures and reactions. Much like game environments, this is an interactive experience - exciting and dynamic that draws on human nature to 'push this' and 'touch that'. Errors and mistakes are made – just as they would in the real world - learning curves are quick as curiosity is piqued and the interactivity pulls the individual into the experience - suddenly an hour has flown by and the user has learnt so much 'by doing'.
Learnexx 3D teaches people the practical skills, competency on equipment and the protocols and procedures required for laboratory work. It is aimed at 2 types of user:
- University Students who are frequently overwhelmed in real lab sessions and not sure what they are doing with new equipment, new environment and a new procedure. By performing an experiment virtually they can concentrate on the science in the real lab. It is also used to teach lab skills when a real lab is not available as is the case when distance learning or experiments that require state of the art or research equipment unavailable in teaching labs.
- Pharmaceutical Laboratory Workers who must learn formal laboratory protocols when manufacturing drugs and regularly prove that they know these protocols and are competent on the equipment needed to execute them.
Distribution :
Internet - Commercial
Platform(s) :
Browser (Unity)
Links