Classification
SERIOUS GAME
(Edugame)
Keywords
Purpose
Besides play, this title features the following intents:
Educative message broadcasting
---
Market
This title is used by the following domains:
State & Governement
Education
Culture & Art
Ecology
---
Audience
This title targets the following audience:
Age :
12-16
/
17-25
/
25-35
/
35-60
/
60+
Professionals
&
Students
---
Gameplay
The gameplay of this title is
Game-based
(designed with stated goals)
---
Similar games
---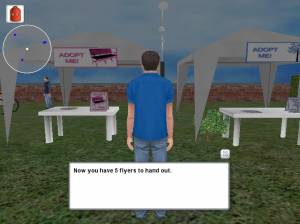 The Sustainability Serious Game is the main Game-Based Learning tool of the ASPIS project (http://www.aspis-learn.eu/intro.html ). It is a role-playing game designed to support mainly planners, architects, environmental NGOs and teachers but also the general public in understanding and practising solving the sustainability problems of public open spaces such as parks. The game is divided into eight quests with gradually increasing difficulty, which all form part of the core, overarching narrative.
During the ASPIS Sustainability Game the player assumes the role of Peter, a 23-year-old architecture student, who decides to help his 17-year-old brother Larry in solving his problems. Larry forms part of a group of young skaters who get to know about the local authorities' intention to demolish the "skating wall" in the public park. Seeing their frustration about this plan, Peter seeks the help of his professor McNutty who challenges him to get involved in the redesign of the public park and pitch the idea to the City Council.
All the quests take place in a 3D environment implemented using the Thinking Worlds platform, a globally unique tool which permits to create highly immersive 3D simulations and games and publish them as either a standalone sim or as a web-delivered sim.
Throughout the whole game the player finds himself in this 3D location representing the public park where he has the possibility to move around freely interacting with different persons and objects in order to render the park functional, aesthetically pleasing and more easily accessible for elder guests, children and people with disabilities.
The ASPIS Sustainability Serious Game, together with the other tools and documents developed throughout the ASPIS programme, has been designed for three distinct learner groups: school pupils, university students, and work-based professionals. It allows learners to recognize the "stakeholders" in the evaluated city plans, participate in a simulated negotiation process and argue for the best "sustainable" solution. The impact envisaged concerns the wider benefits related to the sustainable development of cities and the improvement of town planning practices as well as democratic governance at local level through public participation in planning. The learning impact also relates to improving the competences of urban design and planning professionals; empowering urban inhabitants to influence the shape and use of their immediate environment; introducing innovative tools and pedagogies in school/university curricula; making learning more attractive and relevant to real life situations.
Distribution :
Internet - Free
Platform(s) :
Browser
Links