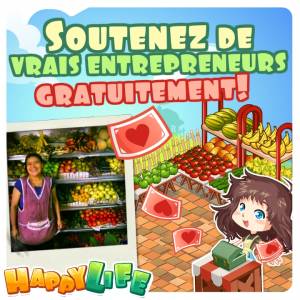 HappyLife is a Facebook game developed by HumanoGames.
Its aims at:
- Introducing the general public to (micro-)credit through a fun and entertaining medium.
- Raising awareness about financial literacy and financial development tools.
- Impacting some of the most vulnerable people in the world.
Gameplay
HappyLife is a meta social game with two universes:
- WORK: the player starts off with a simple Fruit & Vegetable Store before gradually building it up into any other business of their choice e.g. Fashion Store, Restaurant, Bakery, etc.
- HOME: the player strives to improve their standard of living by addressing their family's domestic needs.
The player's objective is to turn their virtual self into a success story. Their (virtual) business grows with the help of boosters (virtual credit), which in turn helps them meet their (virtual) family's needs.
Through this mainstream game 'mechanic', gamers experience the virtual micro-loan as a useful tool for growing their small business and improving their family's lot.
Real world impact
After playing for a few minutes, players discover real micro-entrepreneurs' projects and decide which projects to fund. Projects are then funded by private sponsors.
Therefore, HappyLife is not just a game - it aims to create a community that takes real world action by empowering real entrepreneurs while still entertaining the users. By improving their virtual environment (WORK and HOME), players accumulate "Happy Cash" which can be matched by sponsors in real dollars to fund actual microloans.
HumanoGames works in partnership with online platforms Kiva (www.kiva.org) and Babyloan (www.babyloan.org). These platforms already offer individuals the opportunity to lend money to micro-entrepreneurs and follow their progress (with photos, repayments, anecdotes, accounts of how borrowers' businesses and family lives have improved, etc.).
Allowing players to make a difference in the real world by funding loans to real micro-entrepreneurs adds a unique emotional and psychological dimension to the game.
--> Watch our trailer! http://youtu.be/vjrWXbfGtBw
Distribution :
Internet - Free
Platform(s) :
Browser (Flash)
Links