Classification
SERIOUS GAME
(Newsgame)
Keywords
Purpose
Besides play, this title features the following intents:
Licensed title
Educative message broadcasting
Informative message broadcasting
---
Market
This title is used by the following domains:
Entertainment
Education
Humanitarian & Caritative
---
Audience
This title targets the following audience:
Age :
12-16
/
17-25
/
8-11
/
3-7
General Public
---
Gameplay
The gameplay of this title is
Game-based
(designed with stated goals)
The core of gameplay is defined by the rules below:
---
Similar games
---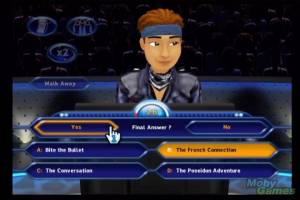 Ludia's 2010 version of Who Wants to be a Millionaire brings the current version of the game show to home consoles. Players try to answer 15 multiple-choice questions of increasing difficulty, with the dollar value for each question increasing all the way up to one million dollars. If they player is stumped by a question, they may narrow their choices down by using up one of three lifelines - Ask the Audience, Double Dip, and Phone a Friend. Players can also choose to walk away and retain their winnings.
In single-player mode, the player simply plays as a contestant on the show. Other aspects of the show, such as answering a question quickly to get selected for the "hot seat" are not recreated. Lifeline answers are selected by the computer and presented by virtual friends/audience. The player's total lifetime winnings are tracked in this mode, and the player will try to beat their performance in the previous game, or achieve the highest dollar score they can. On the Wii, the player can use the direction pad or remote to select one of their four options. On the DS, the player can use the direction pad or the stylus.
Multiplayer is achieved through a "Party Mode" for up to four players. All players are asked a question, and each player selects their answer individually. Those who answer correctly move up the 15-question "money tree." Incorrect answer moves that player down to the previous dollar amount. The player(s) highest up on the tree wins the game.
Players must create a game profile (contained to Millionaire only) and select an avatar from Ludia's standard designs. Specific goals outlined in-game will unlock awards and outfits for these avatars. [source:mobygames]
Distribution :
Retail - Commercial
Platform(s) :
Nintendo DS
-
Playstation 3 (PS3)
-
Wii
Links