Serious Game Classification
Doritos Crash Course Behaviour Interactive, Microsoft Game Studios (U.S.A.), 2010
Classification
SERIOUS GAME
(Advergame)
Keywords
Purpose
Besides play, this title features the following intents:
Marketing & Communication message broadcasting
---
Market
This title is used by the following domains:
Entertainment
Advertising
---
Audience
This title targets the following audience:
Age :
12-16
/
17-25
/
8-11
General Public
---
Gameplay
The gameplay of this title is
Game-based
(designed with stated goals)
The core of gameplay is defined by the rules below:
---
Similar games
---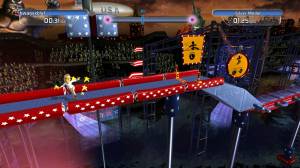 Doritos Crash Course is a free XBLA game modelled after the Japanese game shows Takeshi's Castle or Sasuke, or Wipeout in the West. It is a 2D platforming game where the player needs to complete obstacle courses as quickly as possible, with a live audience cheering in the back. Players control their Xbox Avatar through three locales (USA, Europe and Japan) with five levels each. The gameplay has exaggerated physics where the characters are able to jump very high. Each course is divided in different sections with a checkpoint. The obstacles and hazards includes moving platforms and conveyor belts, swings, chains and ropes, paintgun pellets that push back the avatar, trampolines, temporary platforms and swinging hammers. The goal of each stage is to reach the end as quickly as possible and a medal is provided based on the completion time. When dropping down a platform an unlimited amount of retries is offered.
The avatar is able to run, sprint (with the chance of losing balance), jump, duck and slide under obstacles. If a certain section is missed several times, it can be skipped but the player is called a chicken instead of being awarded a medal at the end. Multiplayer is supported for four players, both offline (split-screen) and online. [source:mobygames]
Distribution :
Retail - Commercial
Platform(s) :
Xbox 360 (X360)
Links
---
---