Serious Game Classification
Weatherlings MIT's Scheller Teacher Education Program (STEP) lab (Singapore), 2009
Classification
SERIOUS GAME
Market
This title is used by the following domains:
---
Audience
This title targets the following audience:
Age :
Students
---
Gameplay
The gameplay of this title is
Game-based
(designed with stated goals)
---
---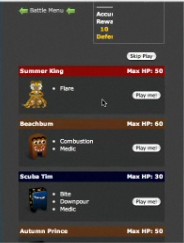 Weatherlings is a collectible card battle game in which players pit their decks of weather-dependent cards against other players' decks. This game is the first created on the Ubiquitous Games platform under development at MIT's Scheller Teacher Education Program (STEP) lab. Created in partnership with the National University of Singapore and the Nanyang Technological University, Weatherlings is an online card game aimed at middle-school aged students who are learning about weather and climate. Game play in Weatherlings consists of short battles set in real U.S. cities in the recent past, for which the game builders have collected a record of actual weather conditions. In each battle, a player plays his or her own cards and tries to defeat an opponent's cards. The twist that differentiates Weatherlings from other card games is that cards' attacks and defenses depend on weather conditions at the time and place where the battle is happening. In Weatherlings, these short battles are designed to be played "casually," after school or between classes on portable devices. After logging in to the game, and before starting to battle, a player builds one or more decks of cards customized for particular weather conditions. Based on the strengths of the decks they have built, and their knowledge and interpretation of climate graphs for potential arenas, players choose the location of the battle from three possible sites. After the arena is chosen, students choose the best deck for the arena they have settled on and begin the battle. In that battle, students are prompted to predict the weather in a given climate for each battle round, like July in Miami, Florida, to gain in-game bonuses.
Platform(s) :
Mobile
Links
---
---