Classification
RETRO SERIOUS GAME
(Edugame)
Keywords
Purpose
Besides play, this title features the following intents:
Educative message broadcasting
---
Market
This title is used by the following domains:
---
Audience
This title targets the following audience:
Age :
12-16
/
17-25
/
3-7
General Public
---
Gameplay
The gameplay of this title is
Game-based
(designed with stated goals)
The core of gameplay is defined by the rules below:
---
Similar games
---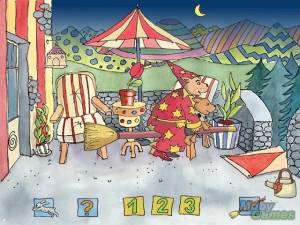 Max and the Magician comes from the team of Tivola and BVM, who are responsible for the Oscar the Balloonist games, as well as the Millie Meter games. Both series are illustrated under the direction of Barbara Landbeck, who brings the same distinctive watercolor style to this game.
Max's Uncle Pong has given him a special flashlight-broom to deliver to to his friend Mervin the Magician, but when Max arrives at his castle he discovers Mervin has been turned into a toilet-brush by the evil witch Hagabelle. Furthermore, Hagabelle has ripped up the spell paper and hidden it all around the castle; to reverse the spell, Max has to find all these pieces and put them together.
Before playing, the player is asked to indicate which language he speaks: English, German, French or Spanish, and to select a magic hat to keep track of his game. This serves as a save-game, allowing the player to return to wherever he left off by clicking on the same hat. The spell pieces will be hidden in different spots if the game is re-started with a new hat selected.
The player uses the mouse to point and click on items throughout the castle, most of which animate or lead to other parts of the castle. On the first run-through, he is given a thumbs-up or thumbs-down choice about moving on to the next area, and once all the scenes have been visited, he can click on the Max icon at the bottom of the screen to re-visit them. Also on first playing, each new area brings up a small text box which is read aloud by a narrator. Aside from finding the spell pieces, the player will come across some mini-games, including "Catch the Rabbit", where the player must click on all the rabbits jumping out of hats, and "Broomstick", where the player has the opportunity to pick from a trunkful of magic brooms and fly around the room. The mini-games have no real goals, and aren't necessary for the advancement of the game. [source:mobygames]
Distribution :
Retail - Commercial
Platform(s) :
Macintosh
-
PC (Windows)
Links