Classification
RETRO SERIOUS GAME
(Advergame)
Keywords
Purpose
Besides play, this title features the following intents:
Marketing & Communication message broadcasting
---
Market
This title is used by the following domains:
Entertainment
Advertising
---
Audience
This title targets the following audience:
Age :
12-16
/
17-25
General Public
---
Gameplay
The gameplay of this title is
Game-based
(designed with stated goals)
The core of gameplay is defined by the rules below:
---
Similar games
---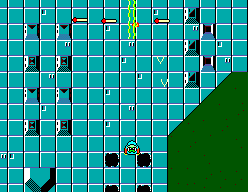 Three scientists built a underwater trash processing complex in order to produce cheap energy, at the expense of the ecosystem. The lagoon animals became desperate and sought the wise Cágado Adão for help. He quickly found the solution: to build a heavily armored submarine, to destroy the facilities and send the invaders back home. Sapo Xulé was asked to perform this mission and destroy the powerful scientists' submarine ships.
Sapo Xulé: S.O.S. Lagoa Poluída (which means Sapo Xulé: S.O.S. Polluted Lagoon) is a modified version of Astro Warrior, with its space ship replaced by a submarine ship driven by Sapo Xulé, a character based on a popular toy in Brazil back in the 80's: a toad with shoes which, when taken off, release a really bad smell.
This game is a basic shoot-em-up, but instead of destroying space ships and aliens, the player must destroy the scientists' facilities and clean up the lagoon, by destroying the trash in it ? the lagoon is filled with matches, eaten apples, cotton swabs, boots and other kinds of junk.
Sapo Xulé's ship can be upgraded by collecting leaves (which will make it faster) and flies inside bubbles (which will improve its fire power). There are also satellite weapons that can be attached to the ship.
The game consists in three levels, at the end of which Sapo Xulé must destroy one scientist's submarine. Once all the three scientists are defeated, they are revived and Sapo Xulé is sent back where he started, in a never-ending circle. [source:mobygames]
Distribution :
Retail - Commercial
Platform(s) :
Sega Master System
Links