Classification
RETRO SERIOUS PLAY
(Edugame)
Keywords
Purpose
Besides play, this title features the following intents:
Educative message broadcasting
Licensed title
---
Market
This title is used by the following domains:
---
Audience
This title targets the following audience:
Age :
3-7
/
8-11
General Public
---
Gameplay
The gameplay of this title is
Play-based
(designed without stated goals)
The core of gameplay is defined by the rules below:
---
Similar games
---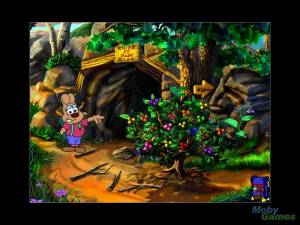 As Ranger Trail opens, the player has just arrived at Camp Wonderoo, where he will collect items from a list provided by Ranger Rudy, take pictures of animals, search for the elusive and mysterious Wonderoo and work toward earning his Junior Ranger Patch. The focus is on nature in this point and click cartoon-style adventure - clicking on spots in each scene yields information about animals, artifacts and plants, and an occasional piece of advice such as: "never eat anything you find in the woods".
In the initial scene around a campfire Ranger Rudy hands over a virtual camera that the player will use to take three pictures of Wonderoo spottings and other pictures of things he has sighted, all to be shown at the end as a slideshow. Clicking on the other campers allows the player to listen to camp songs and follow along with the "bouncing ball" lyrics. Clicking on the camp lantern lets the player listen to animal and insect night sounds, as well as Ranger Rudy snoring.
There are a few other activities as well, each one earns a printable certificate:Supplies - the player must sort through all the objects from the bus, piling the items that are useful for camping in Ranger Rudy's arms and returning the others to the busAstronomy - the player must connect the dots of a constellationSailing - maneuvering a log boat up a stream in a raceCave Painting - an art page, where the player can use feathers and flowers as brushesNature - a match game featuring outdoor images
After earning their Junior Ranger Patch, players can go back to the activities from a map screen or view a slideshow of the pictures they have taken.
[source:mobygames]
Distribution :
Retail - Commercial
Platform(s) :
Macintosh
-
PC (Windows)
Links